Sacôtin is my new adventure, and as the title very subtly hints at, Sacôtin will be about bag patterns.
I haven't talked about this project on my English blog yet, but I did talk about it a bit more on my French blog. So to keep the English readers up to date, let's roll back to a few weeks ago.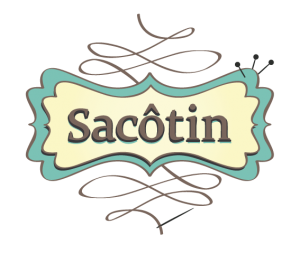 On February 1st 2013 I've started a part-time scheduled at the office in which I've been working for the last 10 years. You see, in France, when you've been working for the same company for some time, you can ask for a leave of absence or a part-time schedule for the duration of one year, to start your own company. After the one year is up you can either say goodbye to your employer or go back to your full time schedule. Of course your employer can refuse the deal… Mine said yes.
So since February 1st I've been very busy pattern making, pattern testing (aka sewing bags), writing instructions and drawing illustrations… And going to my "regular" work.
Why bag patterns ?
Because I love bags, I have more bags than shoes and that says something !
Because they are the sewing projects that give me the most satisfaction. When you sew a bag there is only the pleasure of choosing fabrics, sewing and carrying it around proudly. There is no fitting problem, no gaping neckline, no FBA (although I do love conquering fittings foes).
Bag e-patterns
The patterns will be available as downloadable PDFs only.
They will be automatically delivered by e-mail a few seconds after buying.
Patterns will be available in French and in English.
Launch in May

The first patterns will be available in May. It will be a collection of 3-4 summer bag patterns.
Then I think, that starting in September, I'll release a pattern every month – month and a half. It is not yet set in stone, but it seems a more dynamic and fluid option to me than releasing 3 patterns 2 to 3 times per year.
Today

I've created two patterns. They have been tested, instructions and illustrations are ready, I still need to do the final layout for the PDF… And translate them to English.
I'm currently writing and illustrating the instructions of the 3rd pattern, then it will be tested by other seamstresses. The instructions and illustrations part is what takes me the most time : I pay special attention that everything is perfectly clear and easy to understand, and that takes time.
And well, you guessed it, the patterns are only the visible part of the iceberg, I have the website to set up, translations, paperwork,… The road is still long, but I'm on my way, one step at the time.
Follow


I've created the Sacôtin Facebook page, where I'll publish my progress, my joys and torments from day to day. Once on the Facebook page, just click "Like" to follow it all.
I also set up a newsletter that I'll use to announce the official launch, so if you want to be informed on D-day, register now !
That's it I have unveiled (almost) everything about my project!

Related posts: