This is a big day for me! Today I'm officially launching Sacôtin, my line of bag sewing patterns.
You can now discover the 4 patterns I've created for the spring-summer 2013 collection. These pdf patterns are available in French and English.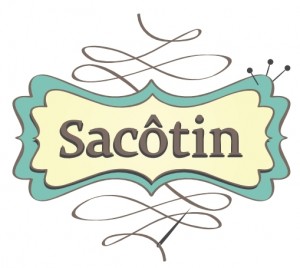 The adventure
I announced my project 3 months ago on my French blog and I want to thank all of you for your support through this blog (French or English version), the Facebook page and your subscriptions to the Sacôtin newsletter.
And a very special thank you to Maria (Velosewer) who proofread the English instructions, you are a blessing !
I also announced that I would offer 4 patterns on launch day so that's today! To find out who the winners  are visit the Blogôtin (Sacôtin's blog).
The patterns
Since February I have worked continuously to create the whole structure of my small business and the first 4 patterns.
I've created bags that I love and I paid particular attention to the instructions that I wanted detailed, clear and illustrated. I wrote the instructions just as I would like to read them myself as a client.
Here are pictures of the 4 patterns, for more information please visit sacotin.com!
I hope you like them !