This is a sewing tutorial to make a very easy strapless beach dress "sarong style" for girls.
This tutorial can also be used to make a skirt or a tunic, you'll just need to change the length / width measurements.
The dress is quite simple : two layers of fabric attached together at the top with an elastic holding the dress up.
The genesis of this strapless girl dress is here and another dress can be seen there. You'll see, on these articles, pictures of the finished dresses.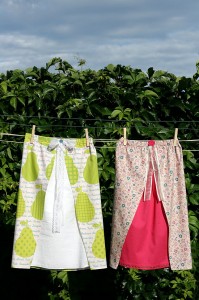 [one_half]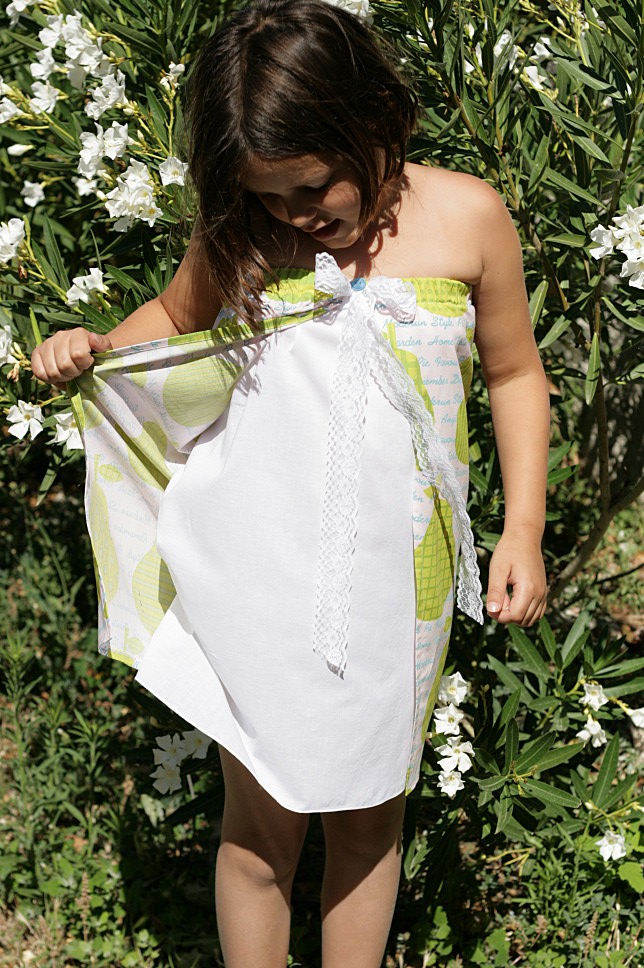 [/one_half]
[one_half_last]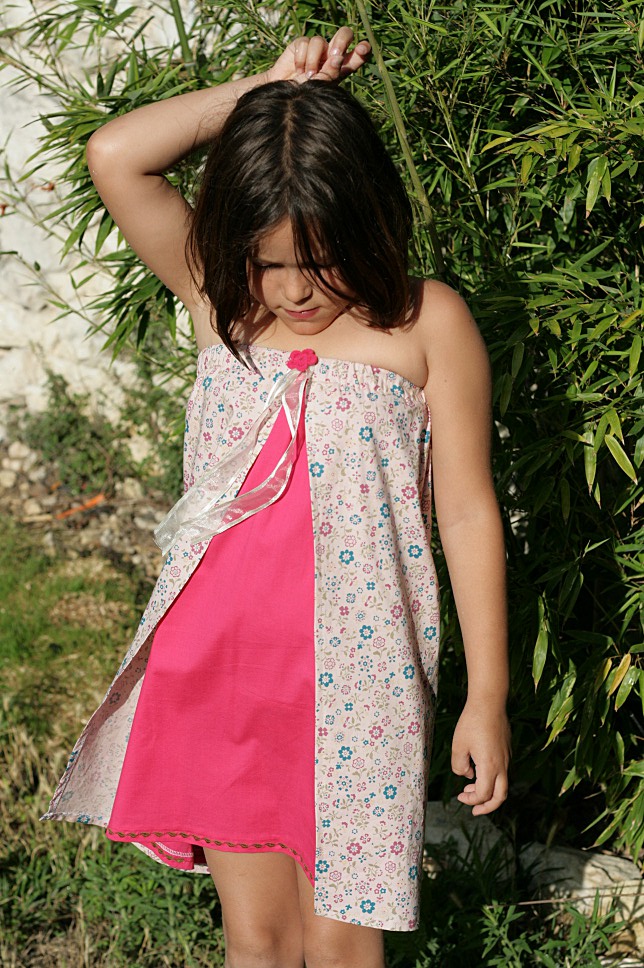 [/one_half_last]
We need
Two coordinated fabrics: cottons, voiles, …
Elastic (I used a 2cm wide elastic)
Optional: ribbons, buttons, … as embellishments
Measurements
Measure bust, waist and hips and retain only the largest measurement.
Width = above largest measurement + 15 cm (6 inches)
To give more fullness to the dress simply add more than 15cm/6 inches.
Length = underarm-knee length + 2 cm (3/4″)  + elastic width (2cm in my case)
Example for Petite Chérie:

The hip measurement is the greatest with 71 cm, so :

Width = 86 cm (71cm+15cm)

her underarm-knee length is 56 cm, so :

Lenght = 59 cm (56cm + 2cm + 2cm)
We cut
Mea culpa :  I'm really bad with drawings, I hope it will stilll be clear enough. But I assure you, it's quite simple.
We cut on the fold :  through a double layer of fabric.
For the upper fabric, we don't need to calculate the length of the diagonal edge, simply connect the 2 points.
We sew
Step 1
Create a tube : Fold the lower fabric right sides together, aligning the edges. Stitch with a seam allowance of 1 cm.
Finish the seam and press it open. This is the center back seam.
Step 2
Finish the raw side edges of the upper fabric, by turning under 1cm.

Step 3
Attach together the upper and lower fabric pieces by  sewing them together at the upper edges :
Right side of lower fabric facing wrong side of upper fabric.
 AND aligning the center back seam of the lower fabric with the center of the upper fabric.
Sew using a seam allowance of 0.5 cm, or you can just serge them together as I did.
Step 4
Create an elastic casing at the top of the dress. Don't forget to leave an opening large enough to thread the elastic !
Slide the elastic in place, adjust its length.
Step 5
Hem with a narrow hem (1cm) the 2 lower edges separately.

On my DD's dresses I started hemming the upper fabric with a 1cm seam allowance, I then did a slightly deeper hem (1,5cm) on the lower fabric.
Step 6
Attach your embellishments (button, ribbon) to the center front of the dress and you're done !